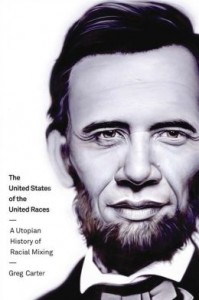 When discovering the strongest submissions for the Mixed Roots Film & Literary Festival, one thing always stood out for me: the storyteller (filmmaker, author, performer) had a solid understanding of the historical context behind the story they were telling. Although many of the personal narratives were compelling, it was often clear when the creator of the work hadn't delved into the historical reasons why they found themselves in a certain time and space. This often made the work feel lacking in some way.
Enter Greg Carter's United States of the United Races – an antidote to celebrations of the mixed experience that lack the important weight of context. The Introduction examines how President Obama – and many others – have capitalized on his being mixed, "he piggybacked onto positive notions about racially mixed people to improve his symbolic power." Carter makes his goals for the book clear here: 1) to show that racial mixture has a long history of being touted as a way towards progress and 2) to question the notion that racial mixture automatically equals progress.
In the following 7 chapters the book follows a chronological order, revisiting some of the history you may have heard often, like Thomas Jefferson and Sally Hemmings, Plessy v. Ferguson, and also giving extensive details into lesser-discussed political and social leaders who addressed racial mixing like Wendell Phillips (who wrote the original United States of the United Races, from which Carter got his title), Albion Tourgée, José Vasconcelos and Jean Toomer.
Carter's Conclusion leaves us with hope that mixed relationships – and the children/grandchildren, etc. produced by them – might help in achieving goals of equality. He includes a checklist – to 'check ourselves' on blindly seeing mixed people as the only saviors, and encourages a banding together – instead of separating ourselves – to insist on making changes.
I highly recommend this book, particularly to artists of all genres who want to address the mixed experience in their work. Even if your work does not directly refer to the past, understanding it better will certainly add depth to the stories you tell.
Here's a PODCAST with Greg Carter discussing the book – hosted by Tiffany Ried of Mixed Race Radio.