I'm realizing more and more how much we all want to blend in. We like the idea of being unique and one of a kind, but we also want to be accepted by social standards. A little unique is ok, but too much is just weird.
Schools are even starting to feed into this "let's all be the same" philosophy. They don't want people to stand out as being the best or the worst at anything. I've even seen schools that give out medals to everyone on a sports team so no one feels like they didn't do a good job. What about the person that did the best?
People are scared to let kids feel different. They want them all to feel the same so they don't risk the child that doesn't feel like they fit in.
My husband and I don't want to teach this to our children. They are different. They aren't like all the kids around them. They are unique. They are biracial. They are Indian and Caucasian.
This "let's all be the same" mentality teaches kids to stifle what makes them special. I want my kids to celebrate what makes them unique. I want them to be so proud of these differences that they share it with all their friends.
Instead of asking ourselves, "How can we make sure our kids fit in?" let's ask ourselves, "How can we help our kids to be proud of who they are?"
My husband's cousin taught me this lesson a few years ago. He had been teased in his elementary school about being different. His friends were teasing him because his mother came to school in Indian clothes. He had a choice right then. He had the choice to be embarrassed and hope his friends would forget about the incident or he could stand up for himself.
Can you guess what he chose to do?
He went home that night and told his mom that he needed to wear Indian clothes to school the next day! His friends were pointing out a huge difference in his life. His mother is East Indian, which means he is different than his friends at school. He is Caucasian and East Indian. He had piles of Indian clothes for all of his Indian events. He, by no means, needed to do anything. He could have ignored them. Instead he decided to take pride and show off something special to him.
The next day at school, he wore his handsome Indian clothes. Instead of being mocked by his friends, they all surrounded him and said how cool he looked!
So what did his parents do? How in the world did they raise their child to be proud of his heritage?
They made sure both cultures were present in his life on a daily basis.
If you want a child to be proud of their culture, they first have to understand it. You need to teach them the values and traditions of both cultures in their life.
My husband's aunt and uncle taught their child what type of Indian clothes to wear to different events, how to eat Indian food with his hands, the correct Indian/American names to call relatives, American/Indian holidays, famous food from both cultures, Telugu/English, and so much more.
As he learned about both cultures, he started to understand what made them special.
They shared what they love about both cultures. 
He also learned what made each culture special to his parents.
His mom shared memories she had from growing up in India. She was able to bring it to life when she took him to India and gave him hands on experience. It wasn't just a story for him; he was able to see the mango trees from her childhood, taste the food, ride in a rickshaw with his whole family, nap in the middle of the day due to the heat, and attempt to speak Telugu to his new friends.
His dad has also been able to bring him back to his home-town. While there he has shown him his favorite places to eat, schools he attended as a child, his family home, and meet his friends.
As his parents have shared their childhood and cultures with him, he has been able to experience them both first hand. Those memories turn into his own passion for not only their culture, but his.

As a child starts to fall in love with their culture, they start to realize how special it makes them. They are able to take something their parents hold dear to them and see what it means to them. They start to see how their cultures have made them into the person they are becoming.
How have you taught your child to be proud of their culture?
---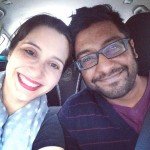 Brittany Muddamalle is the mother of three boys under four years old. She has been in an intercultural marriage for six years. Her and her husband are currently raising their children in American and East Indian culture. She is also the writer of The Almost Indian Wife blog. Her hope is to make a change by sharing her experiences with her own intercultural marriage and raising biracial children.
Check out her blog: The Almost Indian Wife                                                      Facebook Twitter Google+