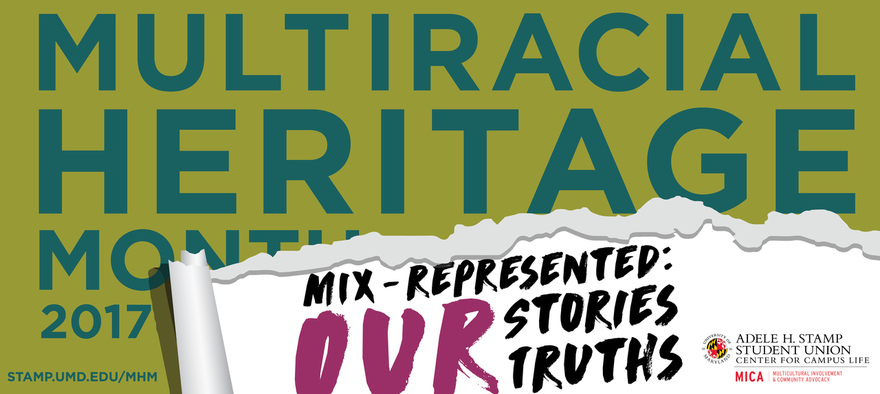 March is Multiracial Heritage Month at the Multicultural Involvement & Community Advocacy (MICA) center at the University of Maryland's Stamp student union! Mixed Roots Stories is proud to partner with this exemplary university group and think it important to tell the stories of student leadership. Check out the re-cap of last year's mixed heritage month and see this year's awesome line-up of events (below)! Go participate in a talk, hear spoken word, see a film screening at UMD or, if you're not a local, get inspired for your own multiracial heritage celebration! Tag your mixed heritage month posts on Twitter and Instagram @UMDMICA and @OurMixedStories.
If you'd like to get involved with MICA, contact coordinator Dr. Naliyah Kaya at nkaya@umd.edu; if you're interested in partnering or would like to see your student group events/leadership story featured with Mixed Roots Stories, email kaily@mixedrootsstories.org.
Multiracial Activists in Black Social Justice Movements
When: Thursday, March 2nd @ 7pm
Where: Stamp Student Union Thurgood Marshall Room
Members of the UMD community will gather to discuss the role of multiracial activists in Black social justice movements such as #BlackLivesMatter. This even is cross-listed on the Black History Month Calendar. *Dessert provided.
Mixed Monologues
When: Wednesday, March 8th @ 7pm
Where: Stamp Student Union Art Gallery
Join TOTUS Spoken Word Experience for an evening of poetry performances hosted by UMD alum and spoken word artist Tony Keith. *Refreshments provided.
50 Years of Loving: Interracial Dating Across Generations Panel
When: Thursday, March @ 9th
Where: Stamp Student Union Pyon Su Room
This year marks the 50th anniversary of the landmark Loving v. Virginia Supreme Court decision, which banned anti-miscegenation laws nationally. Join a panel of students and local community members as they share their experiences with interracial dating and offer reflections on challenges and changes across generations. This event is cross-listed on the Black History Month calendar. *Refreshments provided.
From Black/Red Power to Hip Hop: Black & Indigenous Solidarities in Unexpected Places  When: Tuesday, March 14th @ 7pm
Where: Stamp Student Union Grand Ballroom Lounge
Join us for an exciting evening with Dr. Kyle T. Mays, historian of modern US, Afro-Indigenous, and Indigenous studies! *Food provided.
The Mixed Experience Brown Bag Lunch
When: Wednesday, March 15th @ 12pm                                                                                                                 Where: Stamp Student Union 1121 MICA/LCSL Conference Room 
Come out for an engaging dialogue focusing on the experiences of bi/multiracial people. You do not need to identify as bi/multiracial to attend. Lunch will be served, so come hungry!
Loving Film Screening
When: Monday & Tuesday, March 27th & 28th @ 8pm
Where: Stamp Student Union Hoff Theatre 
The story of Richard and Mildred Loving, an interracial couple, whose challenge of their anti-miscegenation arrest for their marriage in Virginia led to a legal battle that would end at the US Supreme Court.
Your Cup, Your Culture: DIY                                                                                                                         When: Wednesday, March 29th @ 6-8PM
Where: Stamp Student Involvement Suite
Come decorate your own personal coffee mug with designs inspired by your culture and heritage. Mugs and materials will be provided, courtesy of the brothers of ATS. Designs will be part of a #yourcupyourculture social media campaign.
Multiracial Asian Americans In Dialogue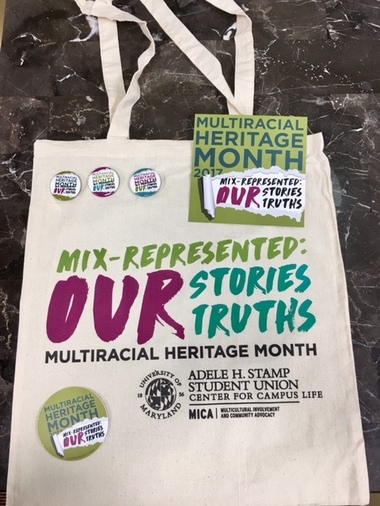 When: Thursday, April 6th @ 5PM
Where: Stamp Student Union 1121 MICA/LCSL Conference Room
This event is a space for people to share experiences related to multiracial identity within the Asian American community. Participants will engage in dialogue around community and build awareness of the needs of multiracial students at UMD. This event is cross-listed on the Asian American Pacific Islander Heritage Month Calendar