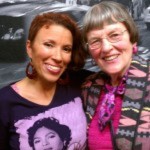 Thanks so much to Kaypri for letting us know about her mother's book "I Didn't Know What I Didn't Know: A Southern White Woman's Story About Race." You can learn more about this moving and important story here: www.dorothystory.com – why not make it a holiday gift for a mother or grandmother on YOUR list!?
Here's the description Kaypri sent us:
Dorothy Hampton Marcus is a Civil Rights Activist, truly ahead of her time. She jumped into Race Relations before it had a name, (in the fifties), and was one of very few Whites to do so. A Winston-Salem, North Carolina native, she grew up in the Jim Crow Era, not fully knowing what that really meant. In her undergrad years at Meredith College in Raleigh she had her first one-on-one inter-racial experience which this progressive all-womens school arranged. This event changed her life and by the time she graduated, she'd found a new passion. Determined to enlighten others with what she had begun to know, she found answers in the most unexpected places witnessing history along the way. For the next two decades she worked in a succession of "Human Relations" jobs throughout the U.S. putting off marriage and motherhood to do so. Even after marrying "late" at age 40, she never gave up on improving civil rights for all people. She was determined to share what she now knew well past her retirement when she started writing this story. She dedicated herself to finishing the book right up until the onset of dementia made it impossible for her to write another sentence. It was at that point that I realized it was up to me to pick up the baton which I started by completing the first draft of her book for her 80th birthday in 2012. It took me nearly two more years to flesh it out and publish it, adding my Daughter's Notes along the way. I am truly proud to share my mother's story with the world!