The incarceration of 120,000 Japanese and Japanese Americans left an indelible mark on America's history and the narrative of WWII, but the repercussions reverberates within the Japanese American community today. The historical trauma of economic loss of jobs and houses, displacement, subjugation to a loyalty questionnaire, being drafted out of the camps, the no-no boys, draft resisters and "specific cultural values that shaped their internment coping included gaman (persevering through hardships), shikata ga nai (a fatalistic attitude of "it cannot be helped"), enryo (self restraint/reserve that discourages emotional expression)" have been documented in papers and films (Homma-True, 1997 as cited by Nagata 2007). Underlying this tragedy was a pressure cooker of acculturation. When American society viewed Japanese Americans as un-American and purposefully imprisoned them people based on their cultural background, there was an undue amount of pressure to demonstrate their American-'ness' and melt into America's melting pot, despite internal and external pressures of racism and concerns of national security raising the heat of the pot. This can be seen when 33,000 Nisei served in the military (442nd regional combat team, 100th Infantry battalion, and Military Intelligence Service) risking their lives and becoming one of the most decorated units of that time, despite having their family incarcerated (Niiya 2014). Even those who resisted the draft or said no-no to the loyalty questionnaire were exercising their constitutional freedoms and patriotism despite having being stripped of their civil liberties (Nagata 2015). The height of assimilation seemed to be achieved as Japanese Americans were crowned as the "model minority," achieving success despite decades of racial prejudice (rise of Asiatic Exclusion League, segregation in San Francisco public schools, Gentlemen's agreement, Alien Land Law, 1924 Immigration Act, and Internment during WWII). As Nagata writes, the historical trauma of incarceration should be viewed throughout time based on the "interaction of personal, intergenerational, and social forces" (Nagata 2015). The interconnections of our experiences and politics as it relates to microaggressions and institutionalized racism are stitched into the next generation and progress can only be seen when the next generation exposes it and heals from it.
As a haifu/ hapa/ biracial (half white and half Japanese) individual I not only have trouble balancing my mixed racial identity, but often find myself filling in the gaps of my family's historical trauma of incarceration and war in Japan (my grandfather was incarcerated and my grandmother was in Japan during WWII) and navigating the pressure of acculturation. I'm starting to realize that my social interactions and identity are often performative and I have to ask myself if it's because I'm trying to be 'Japanese' enough or fit in as an 'American'. Growing up playing baseball, my favorite player was Ichiro Suzuki and I tried to play with a certain flavor that reflected Japanese side in an American pastime sport; playing smallball, being strong defensively, and fit in as much as I can as a team player. In terms of language I haven't necessarily felt comfortable speaking English or Japanese. In elementary school I spent years in speech therapy because I couldn't pronounce certain consonants sounds and I was navigating school as well as intergenerational communication with my grandmother with a thick accent that couldn't make those same consonant sounds. Also, despite years of Japanese courses in high school and part of college, I am not fluent nor comfortable enough to carry a conversation in Japanese. I find my work in community organizing and attending community events as a way to fill the gaps in my own family history, by listening to stories and experiences that I wished I had the chance to ask my grandfather before he passed. Being self-reflective of your intentions of your actions is a skill set you develop to navigate a complex world, but becomes even more important when your haifu and have to navigate your intersectional identity while balancing historical trauma and acculturation.
Being mixed raced and/or bi-racial, we straddle a thin line between their ethnic/cultural identities and physically as well as emotionally know the tolls of acculturation and historic trauma. My experiences have demonstrated that both the rat race to assimilate and/or melt your unique individual identities into the white hetero cisgender hegemonic melting pot (America's hegemonic narrative) as well as the hyper demonstrative of your "otherness", can lead to a hole in your physical and spiritual self that manifests itself as mental and physical health disparities, such as depression, suicide, increase risk for cardiovascular disease, ulcers, and etc (Nagata 2015). Mixed race individuals can facilitate these conversations of how acculturation and historical trauma are linked, the health disparities that arise from dissociation of one's identity, and process of healing.
If this is something that resonates with you, please comment or share your personal stories of assimilating/fitting in and how it may be connected to your family history as it relates to trauma (war displacement, genocide, transmigration, economic instability, and etc.)
Sources:
Nagata, D. K., Tsuru, G.K. (2007). Psychosocial Correlates of Self-Reported Coping Among Japanese Americans Interned During World War II. American Journal of Orthopsychiatry, Vol. 77 No.2, 221-230.
Niiya, Brian. "Japanese Americans in military during World War II." Densho Encyclopedia. 5 Mar 2014, 16:43 PST. 30 Jul 2017, 16:32 <http://encyclopedia.densho.org/Japanese%20Americans%20in%20military%20during%20World%20War%20II/>.
Nagata, D. K., Kim, J.H.J., Nguyen, T. U. (2015). Processing Cultural Trauma: Intergenerational Effects of the Japanese American Incarceration. Journal of Social Issues, Vol. 71 No.2, 356-370.
_____________________________________________________________________________________________________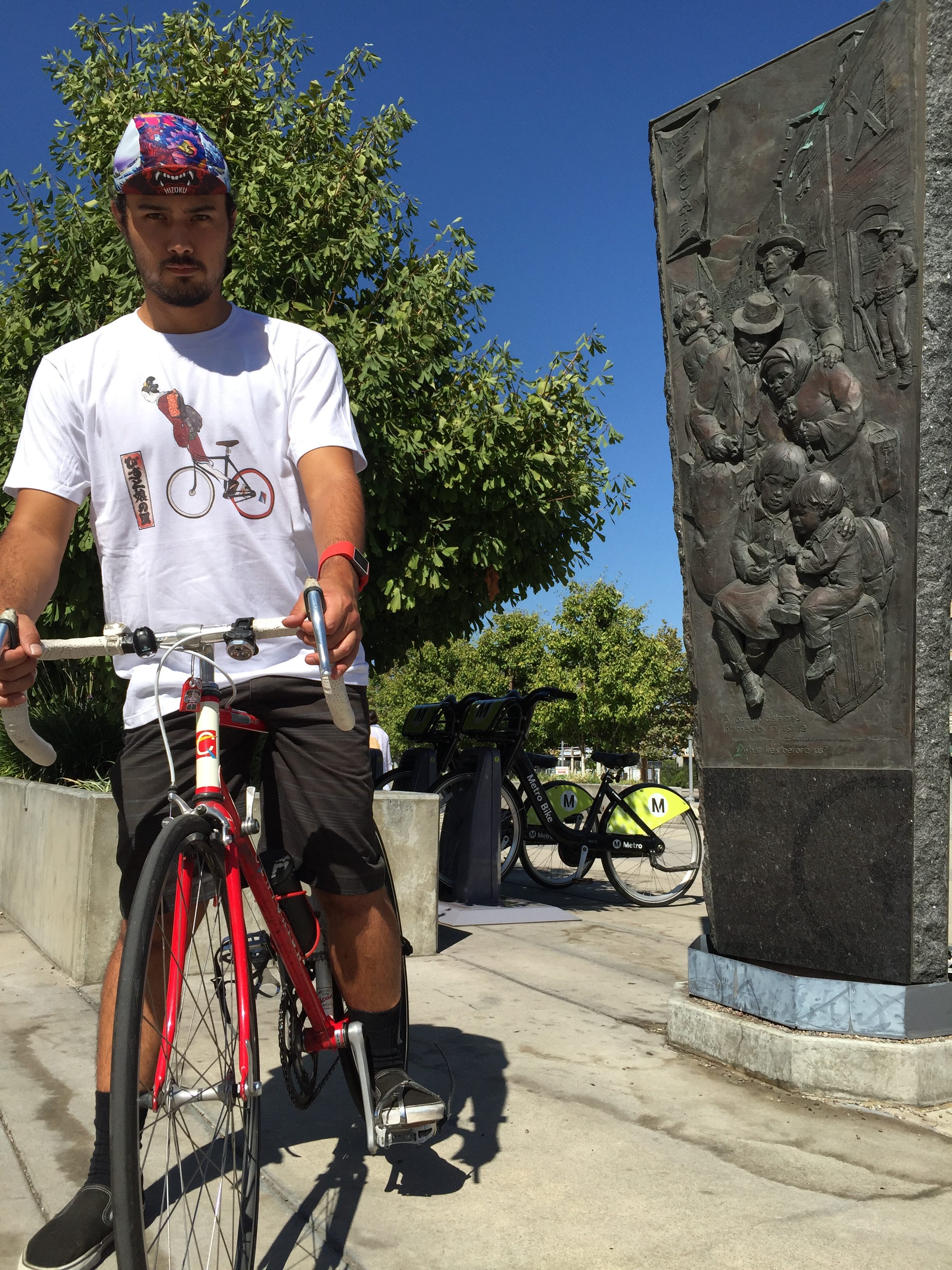 Chris Weir is a haifu (half Japanese half white) community organizer that is part of KmB Pro-people youth (a progressive grassroots organization in Historical Filipinotown in Los Angeles) and Nikkei Progressives (a progressive organization based in Little Tokyo). Chris is an avid cyclist and his next project is organizing bike rides in Japantowns in Southern California with the hope to share local Nikkei histories, link communities together through biking, support local businesses and community programs, and share a vision for equitable and sustainable development and transportation. Professionally Chris works at APAIT (a local non-profit HIV/AIDS service organization that works to positively impact medical underserved communities through culturally competent and linguistically relevant programs) as an Outreach and Testing specialist. On his free time Chris likes to run, play with his Australian cattle dog named Kora, and try new things.