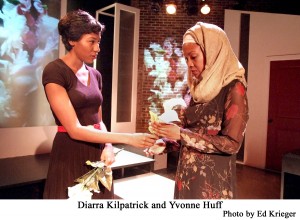 Complications and celebrations of the Mixed Experience are in abundance in playwright Wendy Graf's new play Closely Related Keys. The opening scene features Julia (played with endless energy by Diarra Kilpatrick) mid-orgasm with her boyfriend Ron (Ted Mattison). Julia is African American, Ted is not. Later we meet Julia's father, Charlie (played by Brent Jennings), who informs Julia that she has a half sister, Neyla – who is Iraqi. Neyla (the impressive Yvonne Huff) needs a place to stay while in New York for an audition at Juilliard, and Charlie announces to Julia – at the worst time possible in her life – that Neyla will stay with her. The playwright is a white Jewish woman, and the director, Shirley Jo Finney, is African American.
Though the opening sex scene feels somewhat gratuitous, what follows is a balanced and provoking representation of cultures, races and intimate relationships colliding and evolving. Graf is not afraid to tackle race, privilege and stereotypes head-on. And while Graf may not have direct experience living within the cultures she represents, her play displays research and caring for those cultures, and for our contemporary struggle with judgement of those we don't understand (you can hear more about this HERE in my podcast interview with Yvonne Huff). Through light, witty moments, well-developed characters, and touching monologues by Kilpatrick and Huff, Closely Related Keys leaves the audience cautiously hopeful for the future.
find out more about Yvonne Huff's theatre company here: Lower Depth Ensemble
follow actress Diarra Kilpatrick on Twitter here: https://twitter.com/DiarraOni
follow actor Ted Mattison here: https://twitter.com/tedmattison
Fri, Feb 28 – Sun, Mar 30
Thursday, Friday and Saturday @ 8pm
Sundays @ 4pm
BUY TICKETS
Previews: $15
General Admission: $25
Saturdays: $30
Opening night: $30 (with opening night party)
Special Show Info
Running time: 120 minutes.
There will be an intermission.
Lounge Theatre 1
6201 Santa Monica Blvd
Los angeles, CA  90038
Street Parking
Area Map
Reservations
(323) 960-7774
Cast: Diarra Kilpatrick, Yvonne Huff, Brent Jennings, Ted Mattison, Adam Meir
Director: Shirley Jo Finney
Playwright: Wendy Graf
Set & projection designer: Hana Sooyeon Kim
Lighting designer: Donny Jackson
Music & sound designer: Peter Bayne
Costume designer: Naila Aladdin Sanders
Producer: Racquel Lehrman
Associate producer: Victoria Watson
Presented by Hatikva Productions