Mixed Roots Stories LIVE Performance 2017
February 25th, 6:00 – 7:30 p.m.
Mixed Roots Stories will open the 4th Critical Mixed Race Studies conference with live performances by the following: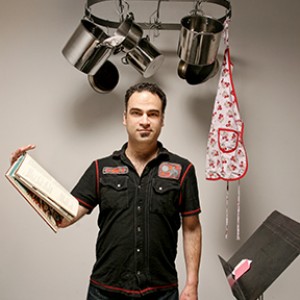 Robert Farid Karimi
Disco Jesus – new work TBA!
Robert Farid Karimi is a community engagement specialist and comedic storyteller. He works with everyday people in cities, companies, and health centers worldwide on making healthy messaging delicious using comedy, culture and food with his culinary cultural engagement project: ThePeoplesCook Project. And, he speaks on issues as mixed race/consciousness, food politics, community deliciousness and the power of the Fool/Trickster to change the world. www.KaRRRimi.com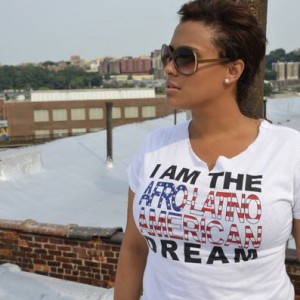 Crystal Shaniece Roman
Black Latina the Play
In 2008 Ms. Roman launched The Black Latina Movement, LLC (BLM) and began performing BLM's first written theatrical piece: a one woman show about the lives of dark-skinned Latinas and African American Latinas entitled Black Latina. In early 2013 Black Latina received a new format featuring an all female ensemble cast starring Judy Torres; during the fall the revamped Black Latina saw the success of multiple sold out shows. Since 2013 Black Latina the Play has been on tour in the Northeast at campuses such as: Hamilton College, Penn State University, Community College of Baltimore County-Essex and Lehigh University. Most recently Crystal revised the one woman version of Black Latina the Play after being invited to perform at the Smithsonian Institute for Hispanic Heritage Month Festival Latinidad- Looking into Latina Women's American Experiences September 2016.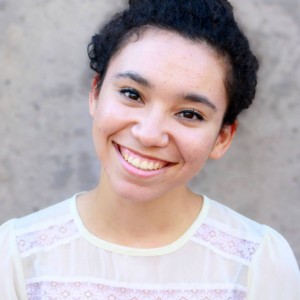 Carly Bates
Musings of Rachel Dolezal
Carly Bates is an emerging artist from Phoenix, Arizona. With a background in music and piano performance, she is active in the Arizona arts community as a creative collaborator with musicians, movers, poets, actors: storytellers. Having recently graduated from Arizona State University, Carly is currently working with a local playback theatre company called Essential Theater and is also the editor for the Mixed Roots Stories Commons.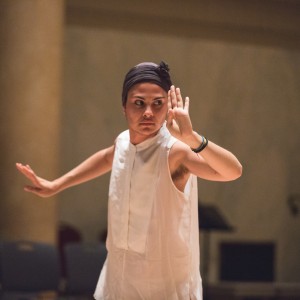 Zavé Gayatri Martohardjono
Untitled (Balinese dance study)
Zavé Gayatri Martohardjono makes intercultural, geopolitical, boundary-defying, high glam performance, video, and installations. Interested in embodied risk-taking and cross-cultural imagery, they combine improvisation with their own cultural roots: Indonesian mythology and dance, queer iconography. Brooklyn based, Zavé has shown at Aljira Center for Contemporary Art, Boston Center for the Arts, Center for Performance Research, Center for Contemporary Arts in Glasgow, Leonard & Bina Ellen Art Gallery, Movement Research at Judson Church, Recess, SOMArts, Winslow Garage, among others. They have been an artist in residence at the Shandaken Project at Storm King, La MaMa Experimental Theatre, Chez Bushwick, and an Lambda Literary Emerging Writers Workshop Fellow.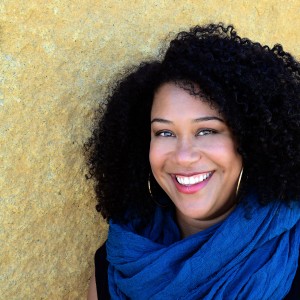 Lisa Marie Rollins
Performing an excerpt from SIDE CHICK: This ain't no Harlequin Romance
Lisa Marie Rollins is playwright, poet, freelance director and dramaturg. Most recently she co-directed Young Jean Lee's The Shipment (Crowded Fire Theater) and a reading of Tearrance Chisholm's Br'er Cotton (Playwrights Foundation). She is the director of All Atheists are Muslimby Zahra Noorbakhsh and was co-producer of W. Kamau Bell's "Ending Racism in About and Hour". Lisa Marie performed her acclaimed solo play, Ungrateful Daughter: One Black Girl's Story of Being Adopted by a White Family…That Aren't Celebrities in festivals, universities and academic conferences across the US. She was Poet in Residence at June Jordan's Poetry for the People at U.C. Berkeley, a CALLALOO Journal London Writing Workshop Fellow and an alumni in Poetry of VONA Writing Workshop. Her writing is published in Other Tongues: Mixed-Race Women Speak Out, River, Blood, Corn Literary Journal, Line/Break, As/Us Literary Journal,The Pacific Review and others. Currently, she is finishing her new manuscript of poems, Compass for which she received the 2016 Mary Tanenbaum Literary Award from SF Foundation. She is in development with her new play, Token. She holds degrees from The Claremont Graduate University and UC Berkeley. She is a Lecturer at St Mary's College in Performance Studies, and a Resident Artist with Crowded Fire Theater in San Francisco. Lisa Marie is a 2015-16 playwright member of Just Theater Play Lab and Artist-in-Residence at BRAVA Theater for Women in San Francisco.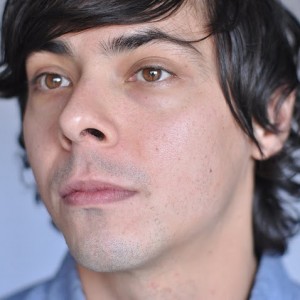 Fred Sasaki EAT TO JAPANESE: Achieving ethnic authenticity by eating, shopping, emojis
A step-by-step guide to being genuine authentic
Fred Sasaki is the art director for Poetry magazine and a gallery curator for the Poetry Foundation. He is the author of Real Life Emails (Tiny Hardcore Press, 2017) and the zine series Fred Sasaki's and Fred Sasaki's Four-Pager Guide To: How to Fix You.
The Performance will be held at the Norris Cinema Theater 850 W 34th St, Los Angeles, CA 90089
This event is Co-Sponsored by the USC School of Cinematic Arts
Free tickets will be limited. Check back for a link to register.
For additional conference programing and other details visit the CMRS website.
Day of walk-ins will also be welcome pending ticket availability.