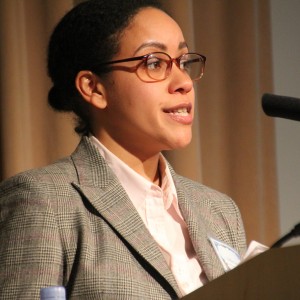 We were honored to have Dr. Zélie Asava as our Mixed Roots Stories keynote at the 2014 Critical Mixed Race Studies Conference.
Dr Zélie Asava is Joint-Programme Director of the BA in Video and Film at Dundalk Institute of Technology, where she teaches courses on film and media theory. She also lectures in UCD Film Studies. Her monograph is entitled "The Black Irish Onscreen: Representing Black and Mixed-Race Irish Identities on Film and TV" (Peter Lang, 2013). She has published essays in a wide range of journal and essay collections, including: Masculinity and Irish Popular Culture: Tiger's Tales (Palgrave MacMillan, 2014); Oxford Bibliographies Online: Cinema and Media Studies (Oxford University Press, 2013);Viewpoints:Theoretical Perspectives on Irish Visual Texts (University of Cork Press, 2013);The Universal Vampire (Farleigh Dickinson University Press, 2013); France's Colonial Legacies: Memory, Identity and Narrative (University of Wales Press, 2013).
You can view her keynote from the conference below:

You can find a follow up guest blog from Dr. Asava with the links to the videos referenced here.