The deep rooted nature of racial segregation and inequality in the good ole U S of A can hurl certain individuals right through the black & white, past the shades of grey and often into the complex, multihued road less traveled: Winding, rugged paths riddled with rusty old warning signs like "Do Not Enter" or "Dead End". My husband, David and I began our journey 15 years ago and my Lawd was it a heck of a hike… Kinda endemic amongst Black/White interracial couples, no?
Perhaps what makes our union unique from a purely surface perspective is our apparent racial/cultural ambiguity. Essentially, we've been asked to unravel the 'mystery' of our racial make-up a lot throughout our lives. David, who is Pennsylvania Dutch & Italian is often mistaken for being Latino, Jewish or Arab. When folks openly assume I'm bi-racial, Latino, and so forth, I let 'em know in so many words that I'm just a paler shade of "Black" & occasionally disclose the details of my deep rooted mixed heritage when the spirit moves me.
So naturally, when we decided to start a family 7 years into our union, David and I were hip to the fact that this issue of racial/cultural ambiguity was about to get put on full blast – particularly in this racially hostile culture obsessed with labeling and division. We wanted to help our children embrace the fullness of their heritage, develop a sense of inner harmony and take pride in their uniqueness. To that end, we moved from Philadelphia to San Francisco's East Bay shortly after our first son, Rafi, was born. 'Twas our very own quirky paradise: It ain't perfect but the East Bay is home to communities that exemplify social & environmental progressivism – attributes completely aligned with our values and beliefs.
So while we relocated miles away from our close knit, multicultural village of family and friends, our commitment to immersing Rafi (and eventually his baby bro Armand) in a world brimming with a veritable array of family units was absolutely solid. We'd entered a sphere in which the mixed experience was a common one – the figurative cherry on top.
See, as a West Philly native, I knew countless youths, both mixed and otherwise, grappling with identity issues to some degree. Maybe it was the time in which I came up, but the process looked quite uncomfortable (to say the least). The internalized 'race based' battles I'd witnessed were the last thing I wanted any child of mine to endure. The realization, however, was that perhaps the whole predicament was completely out of my hands. My suspicions were justified, fears confirmed and empathy enhanced the day I observed my son's reaction to learning he was half Black.
Our Eldest Son
It may sound like plain old mamma pride, but I gotta say that Rafi is one of the most sensitive, perceptive, creative and hysterical people I've ever known. Like most children, he views the world with eyes of pure innocence and openness. In that vein, David and I became hesitant to introduce him to matters with inherent mind-warping qualities like religion or racism. We thought such topics should be addressed when he was mature enough to grasp the overall concepts involved. "Why not develop a healthy sense of identity in this fractious society before slipping down any rabbit holes?" we justified.
There's this excellent Sesame Street book titled We're Different, We're the Same that pretty much sums up the outlook of young ones (or perhaps the extremely rare adult who somehow avoided the mental shackles of self-loathing, 'otherisms', etc.) This innate ability allows individuals to view themselves and the world around them without judgment. Now at the age of 5, Rafi became acutely aware of varying skin tones. For example, he began noting if someone appeared pink, tan, brown or "orange" – it was all about the rainbow. We were unaware that Raf picked up on the institutionalized race-culture-color connection until one morning when he asked about a classmate of his named Tim, a Filipino child whose adoptive mother looked markedly different from him.
"Mommy, what color is Tim?" Raf asked. Unaware of li'l Tim's background at the time, I replied, "He's sort of a dark caramel color."
"Yes, but his mommy is white."
Whomp! There it was… "Yes, she is white. She is his adoptive mother." I proceeded to explain that his buddy Keith was a Black child adopted by a white woman.
"Well," Rafi continues, I'm glad everybody in our family is the same color." "What do you mean?" I asked. "Well, daddy's White, me and Armand are White and you're White."
I was shocked and amused. No one ever mistook me for being White before. Warmly I asked, "You think mommy's white?"
"Yes," he answered.
"Why is that Rafi?"
"Because we are all the same color."
My li'l man had a point. Despite the 'opposing' categories David & I had been assigned to, we shared some similar physical characteristics, including our complexion.
So I continue, "Actually, mommy isn't White. I'm Black which some people call African American."
"But you're not brown," Rafi said bewildered.
"That's true, but neither is Grand [my father], but he's Black too. Daddy is White and mommy is Black, and you and Armand are half White and half Black.
At this point, tears began to well up in his Rafi's eyes. It was as if I told a long-time believer that jolly ole Santa was a lie. Cuddling next to him, I asked his why he felt sad. The more I inquired, the deeper he burrowed himself into the living room couch. I longed to understand what he was feeling. Could it be shame, the pain borne of confusion? Perhaps it was a sense of deceit? I was in unchartered territory. I'd never questioned my racial identity, especially at that tender age. In an attempt to soothe his apparent anguish, I began to highlight other playmates that shared mixed (black and white) parentage, but to no avail.
It must be the melanin factor, I thought. It seemed that Rafi couldn't quite grasp how someone who was not brown skinned, could be considered Black. It just didn't compute. Welcome to Race Relations U.S. 101, my love. First up on the syllabus: The one-drop rule…. Ok, I didn't go there. He was only 5 and this was our first collective step in this direction. As the tears continued to well up in his eyes, I warmly asked Raf to catch my gaze. I felt damn near speechless as I witnessed his entrée into this area of self-discovery trigger such discomfort.
"You may not know this now, but your heritage is something to be extremely proud of not just because it's unique, but because it is yours." Lovingly, I urged him not shy away from the complexities of his lineage, but celebrate his embodiment of them.
The resilience of a youthful spirit is no joke. Shortly after our talk, Raf was back to the business of boisterous play with his little brother. I, on the other hand, remained on the living room couch a spell longer in contemplation.
I realized my desire to see the world through the eyes of my children was outweighed by the foolish aspiration to manage their perception. I don't want my boys to be crippled by prejudice and racism. I pray they stand tall and allow the foul byproducts of institutionalized racism simply roll off their shoulders fortified by the strength of authentic self-love.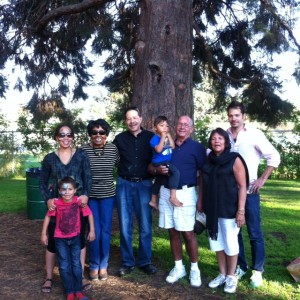 By: May 2014 Guest Blogger – Sky Obercam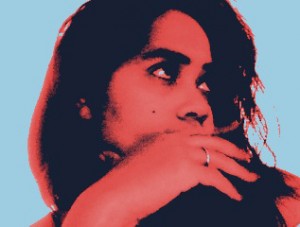 Born & raised in Philly, Sky currently resides in the San Francisco
Bay Area. A full-time mamma, and creative spirit, she's lent her voice
to The Source, Format Magazine, Bossip, Black Web 2.0, Vibe Vixen,
Frugivore, XO Jane and co-founded art & culture blog,
Visual Culture. Peep her blog, Mindless Culture vs. Sky Obercam, for
updates on new (and hopefully exciting) endeavors, as well as
entertaining tid-bits, info, and arbitrary rantings from the
self-proclaimed eccentric.
(due to an abundance of spam, we've had to turn off comments here, but please head over to our  Facebook page- we'd love to hear and share your thoughts there! facebook.com/MixedRootsStories)