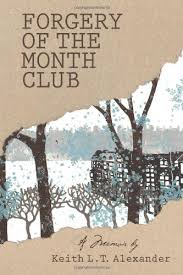 Born to an absent father—an African-American lawyer in 1960's Chicago—and a crooked, Jewish mother, Keith L.T. Alexander had no ordinary childhood. Known to the media as "Anita the Burglar," Alexander's mother was a criminal by nature. Brilliant and creative, she mastered everything from bicycle theft, to mail fraud, to art forgery. Between scams, she built a castle and designed a human powered flying machine. "Whether as a member of a subculture or as an individual, Mom made choices that most mothers would not have made, "Alexander admits. Determined to fill the empty bellies of her two children and her desire for thrill, Anita was involved in whatever intellectual and illegal practices she could find. While she was out, Alexander and his older sister, Lin, were cared for by Anita's circle of thieving and compassionate homosexuals who were called aunts and uncles. This support system was where Alexander and Lin turned to fill the void of their absent father, who lived with his wife, not twenty miles away. A very unique story, Alexander holds nothing back in his debut memoir Forgery-of-the-Month Club. From adolescence to adulthood, Alexander continues to cope with the decisions of his parents. Now, he shares his story of love, family, and friendship set against a delightfully dangerous backdrop.
"As the writing took shape, my demons awoke and were buckled as my understanding of our choices and of our extended family deepened," he says. Forgery-of-the-Month Club is a captivating, coming-of-age memoir that will have thieves and law-abiding citizens alike on the edge of their seats!
"In all my years of being a newspaper columnist, interviewing "Anita the Burglar" was one of the memorable highlights. A bright and vivid character, she could give a good name to art forgery, as well as other unusual ways of breaking the law." —Margo Howard, aka Dear Prudence
"Anita's life as a hustler and artist brought us hours of laughter that made our sides ache! Keith's telling of them is a gem." —Warren Casey, composer, lyricist, writer, Grease
You can order Keith L T Alexander's book here!