Following my keynote on mixed representations in contemporary Irish cinema and television at the 2014 Critical Mixed Race Studies Conference, here are some links to the films discussed.
In 1976 Radharc, a TV production company run by the Irish clergy whose work was commissioned by the state broadcaster RTE, produced The Black Irish, a documentary on mixed-race people in Kinsale, Montserrat.
Recut trailer for Irish language TV channel TG4: http://www.youtube.com/watch?v=0QHYFXDGf4Y
Full documentary: http://www.rte.ie/archives/exhibitions/1378-radharc/355633-the-black-irish/
In The Commitments (Parker, 1991), the black and mixed-race Irish are an absent presence as the white protagonists reappropriate the elements of African-American culture relevant to their needs, in order to voice their own feelings of oppression and victimhood:
http://www.youtube.com/watch?v=o_aO9pv0Y7I
1993 TV series Queen explores the divisions of racialization in America, and the difficulties faced by a young mixed-race Irish-African-American woman, Queen (played by Halle Berry), in the slavery-era South who does not fit into either side of the established black/white binary. The series also featured mixed actress Jasmine Guy as Queen's mother.
https://www.youtube.com/watch?v=fQLMqZ5I_Xs
The 1998 melodrama The Nephew (Brady) begins with a baggily dressed, dreadlocked mixed-race man arriving by boat at Inis Dara, a small island off the Irish mainland. Chad Egan-Washington (Hill Harper) is the son of an Irish emigrant who married an African-American. Here's a clip of his performance of a song in Gaelic, with the refrain Fill a Rúin O [Come back, my love]: http://www.youtube.com/watch?v=FjGSsBmZtOY
In rom-zom-com Boy Eats Girl (Bradley, 2005), a budding romance between teenagers Jessica (played by Irish-Zambian popstar/actress/model Samantha Mumba) and Nathan (David Leon) is disturbed by a zombie attack. Nathan fears that Jessica has stopped loving him and so commits suicide. His mother uses voodoo to bring him back from the dead and as he feeds he produces a zombie army. Here's the trailer: http://www.youtube.com/watch?v=Vr3uDod2Kd4
Rural realist horror Isolation's (O'Brien, 2005) protagonists are also a young couple. Mary (Irish-Ethiopian actress Ruth Negga) and Jamie (Sean Harris) run away together after her family reject him – he's a Traveller (i.e. nomad), another of the marginalised Irish, but of a lower status here than non-whites. In this scene, Mary gets to know the farmer whose land they're staying on: http://www.youtube.com/watch?v=UbsEDVrIyAQ
Trailer: http://www.youtube.com/watch?v=OHUdt6abG64
Multicultural Irish Shorts (full film links):
Moore Street Masala (Ireland, O'Sullivan, 2009): http://www.thisisirishfilm.ie/shorts/moore-street-masala
Oscar nominated New Boy (Green, Ireland, 2007): http://www.thisisirishfilm.ie/shorts/new-boy
Racist B&B (O'Brien, 2013): https://www.youtube.com/watch?v=J80q7Q3UIEM
The Blaxorcist (King, Ireland, 2007): http://www.thisisirishfilm.ie/shorts/the-blaxorcist
Cactus (Molatore, Ireland, 2007): http://vimeo.com/6213753
2013 Irish Films on Mixed Roots
Paula Kehoe's An Dubh ina Gheal [Assimilation] is a documentary on the Irish-Aborigines of Australia: http://vimeo.com/92388921
Joe Lawlor and Christine Molloy's film Mister John positions the Irishman within an interracial family in Singapore: https://www.youtube.com/watch?v=6cUpuB5s-rw
Donal O Ceilleachair's documentary Aisling Gheal [Bright Vision] follows the life of Shahira Apraku, a young mixed-race pupil of sean-nós (traditional song), in the Gaelic speaking region of Connemara in the West of Ireland: http://www.youtube.com/watch?v=orCEyy206iI
Further Irish Films Featuring Mixed and Black Actors Include:
Pigs (Black, 1984), Oscar winning feature The Crying Game (Jordan, 1992), Mona Lisa (Jordan, 1986), When Brendan Met Trudy (Walsh, 2000), Black Day at Black Rock (2001), Breakfast on Pluto (Jordan, 2005), Pavee Lackeen (Ogden, 2005), Irish Jam (Eyres, 2006), Ghostwood (O'Brien, 2006), The Front Line (Gleeson, 2006), Kisses (Daly, 2008), 3 Crosses (Figgis, 2009), Trafficked (O'Connor, 2009), Sensation (Hall, 2010), The Guard (McDonagh, 2011); Between the Canals (O'Connor, 2011), The Good Man (Harrison, 2012), Milo (Boorsma and Boorsma, 2012), Byzantium (Jordan, 2012), What Richard Did (Abrahamson, 2012), Calvary (McDonagh, 2013).

See also RTE  television series: The New Irish: After the Bust (2012), Love/Hate (2010-present, featuring mixed Irish actors Ruth Negga and Aaron Heffernan), Prosperity (2007), Raw (2008-10), Father and Son (2009, featuring mixed actors Reece Noi and Sophie Okonedo), Little Brazil: Gort, Ireland (2006), Love is the Drug (2004, also starring Negga), The Clinic (2003-9), Fair City (1989-present, currently featuring mixed-race Irish actress Donna Anita Nikolaisen). And TG4 2011 documentary on Gaelic-speaking Zimbabwean Irish sean-nós dancer, choreographer, composer, performer Tura Arutura, Steip le Tura.
By Dr Zélie Asava
---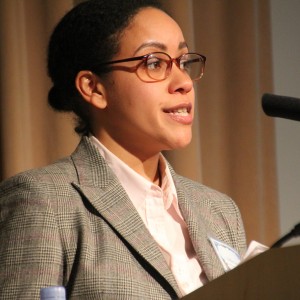 Dr Zélie Asava is Joint-Programme Director of the BA in Video and Film at Dundalk Institute of Technology, where she teaches courses on film and media theory. She also lectures in UCD Film Studies. Her monograph is entitled
The Black Irish Onscreen: Representing Black and Mixed-Race Irish Identities
on Film and TV (Peter Lang, 2013). She has published essays in a wide range of journal and essay collections, including: Masculinity and Irish Popular Culture: Tiger's Tales (Palgrave MacMillan, 2014); Oxford Bibliographies Online: Cinema and Media Studies (Oxford University Press, 2013);Viewpoints:Theoretical Perspectives on Irish Visual Texts (University of Cork Press, 2013);The Universal Vampire (Farleigh Dickinson University Press, 2013); France's Colonial Legacies: Memory, Identity and Narrative (University of Wales Press, 2013).
---