There are a lot of misconceptions regarding bicycles and cycling. It's often seen as a mode of transportation for the very poor or a leisurely activity for rich white men. The presumption is that you have to wear tight pants or street clothes and have a backpack with unlimited storage. To me I want to use the bicycle as a tool to promote social change, build community, discuss pertinent and often hard to talk about topics, address various forms of oppression and discrimination, and ultimately have fun and be healthy.
The bicycle became a driving force for social change as much as a mode of transportation during the burgeoning early years going from the penny farthing to the diamond safety bicycle. This is seen in the late 19th century feminism, Clarion socialism, environmentalism, and anarchism in Britain (1) as well as the suffragettes in passing the 19th amendment in the United States(2,3). Though cycling's early days was considered a white gentlemen's sport, Major Taylor was the first Black American athlete to break that racial barrier (4) and cycling clubs became a major vehicle to assimilate into mainstream American culture (5). My next project uses bicycles as a comprehensive revolution towards social justice.
This involves creating bike tours in Little Tokyo, other Japantowns in southern California, and bringing other communities into Little Tokyo. The goal of these bike tours is to share local Japanese American stories, link communities together through biking, support local businesses and community programs, facilitate and promote intergenerational dialogue and knowledge sharing, and share a vision for equitable and sustainable development and transportation. These bike tours are built through community partnership between API Forward Movement, Japanese American Community and Cultural Center (JACCC), Sustainable Little Tokyo, Little Tokyo Historical Society (LTHS), Metro Bike Share, and LADOT. Also, there was an outpouring of community support with 35 to 40 cyclist coming to our first tour.
At 133 years old, Little Tokyo is one of the oldest ethnic enclaves in Los Angeles and being reduced to 150 acres (only one quarter of it's original size) there has been a consistent struggle to sustain the culture, history, and legacy of small businesses in Little Tokyo. To address these issues our first ride was around the historical border of Little Tokyo with stops at City hall, Olvera street, Arts district, and the Flower District. The tour discussed pioneering Japanese American businesses pre-1940, changes/ development of Little Tokyo due to gentrification, and the three waves of displacement Little Tokyo has faced. We had community members discuss their family history or ties to certain locations and encouraged sharing from riders. Because of this riders heard a rich history of Japanese and Chicanos supporting and patronizing each other's businesses, learned about Japanese American artists residing within the arts district and the loss of protection while facing eviction, and discussed the impact that southern California Japanese farmers had on the flower market in the United States and the ebb and flow of the flower market which now has to become a mixed-use development to stay afloat.
An important theme throughout the ride was displacement and one of the major sources of displacement of Japanese Americans in Little Tokyo has been government institutions. Executive order 9066 forced the incarceration of Japanese Americans in Little Tokyo and throughout the western coast of the continental United States. This left many Japanese businesses boarded up or lost because of the war. Many business were unable to keep their lease and Japanese immigrants couldn't own land because of California's Alien Land laws at the time. Little Tokyo became Bronzeville to accommodate the influx of African Americans leaving the south to work in the war time factories in Los Angeles. When Japanese Americans were coming back from camps and resettling in Little Tokyo once again they faced the LAPD and LA city council as they sanctioned pieces of Little Tokyo for eminent domain to build the Parker Center for LAPD headquarters and other city buildings. Finally in the 1980's with the recession in Japan and Japanese business closing shops in Little Tokyo, it became cited as a blight district that was open for redevelopment and changes occurred without the community input and Japanese American's interest considered. This institutionalized and systemic displacement of Japanese and Japanese Americans is woven in the history of Little Tokyo and this bike tour was shedding a light on it and hopefully brings about the dialogue necessary to lay the foundation for advocacy work to sustain the culture, residents, and businesses in Little Tokyo. The ride ended with cyclist eating at Mitsuru Sushi and Grill, a 40 year old family run business that specializes in Japanese diner food and ambiance.
As a cyclist and community activist I want this bike program to become multifaceted and address all of the community needs regarding biking, social engagement, gentrification/ displacement, and sustainability of programs and businesses. One area of growth could be a youth program that taps into the fixed gear bike culture and blend the Japanese Keirin style, encourage/ mentor/ teach youth about bike safety and cycling career options, and possibly have a team or racing component to it. This could also lead to a opening of a bike kitchen/ community space where people can learn to maintain and fix their bikes. Finally I want to flip the script on bicycles and acculturation. Though bicycle clubs where once a way assimilate into American culture and seen as a status symbol, the bicycle now transcends universally across cultures and I hope these rides/tours bring a way to discuss the effect of acculturation on mental health and other health disparities.
If you are interested our next bike ride will be a unity ride on Oct 22, 2017 that goes from south central LA to Little Tokyo. The bike ride will culminate with FandangObon + Environmental Encuentro Art, Culture, Ecofest 2017 a festival that celebrates art, culture, and mother earth through participatory music and dance traditions of Fandango of Vera Cruz, Mexico rooted in African, Mexican and indigenous music; Japanese Buddhist Obon circle dances in remembrance of ancestors; and West African dance and drums of Nigeria and New Guinea. More details will come out soon on http://www.sustainablelittletokyo.org/events/ or Sustainable Little Tokyo FB events.
Sources
Horton, Dave. "Social Movements and the Bicycle." Thinking About Cycling, 9 Jan. 2014, thinkingaboutcycling.com/social-movements-and-the-bicycle/.
Hoefer, Carsten. "Social Change: Suffragettes and Workers on Bikes." Crazyguyonabike, 26 Jan. 2007, 04:47, crazyguyonabike.com/doc/page/?page_id=46873
Erdman, Shelby Lin. "How the Bicycle Changed the World for Women." CNN, Cable News Network, 7 June 2011, http://www.cnn.com/2011/LIVING/06/06/women.bicycle/index.html
O'Connor, Brion. "Honoring Major Taylor, America's First Black World Champion." SI.com, Sports Illustrated, 25 Feb. 2015, si.com/edge/2015/02/25/major-taylor-americas-first-black-world-champion.
Goodman, J. David. "The Bittersweet History of Bike Clubs." The New York Times, The New York Times, 19 Jan. 2010, https://cityroom.blogs.nytimes.com/2010/01/19/the-bittersweet-history-of-bike-clubs/
_____________________________________________________________________________________________________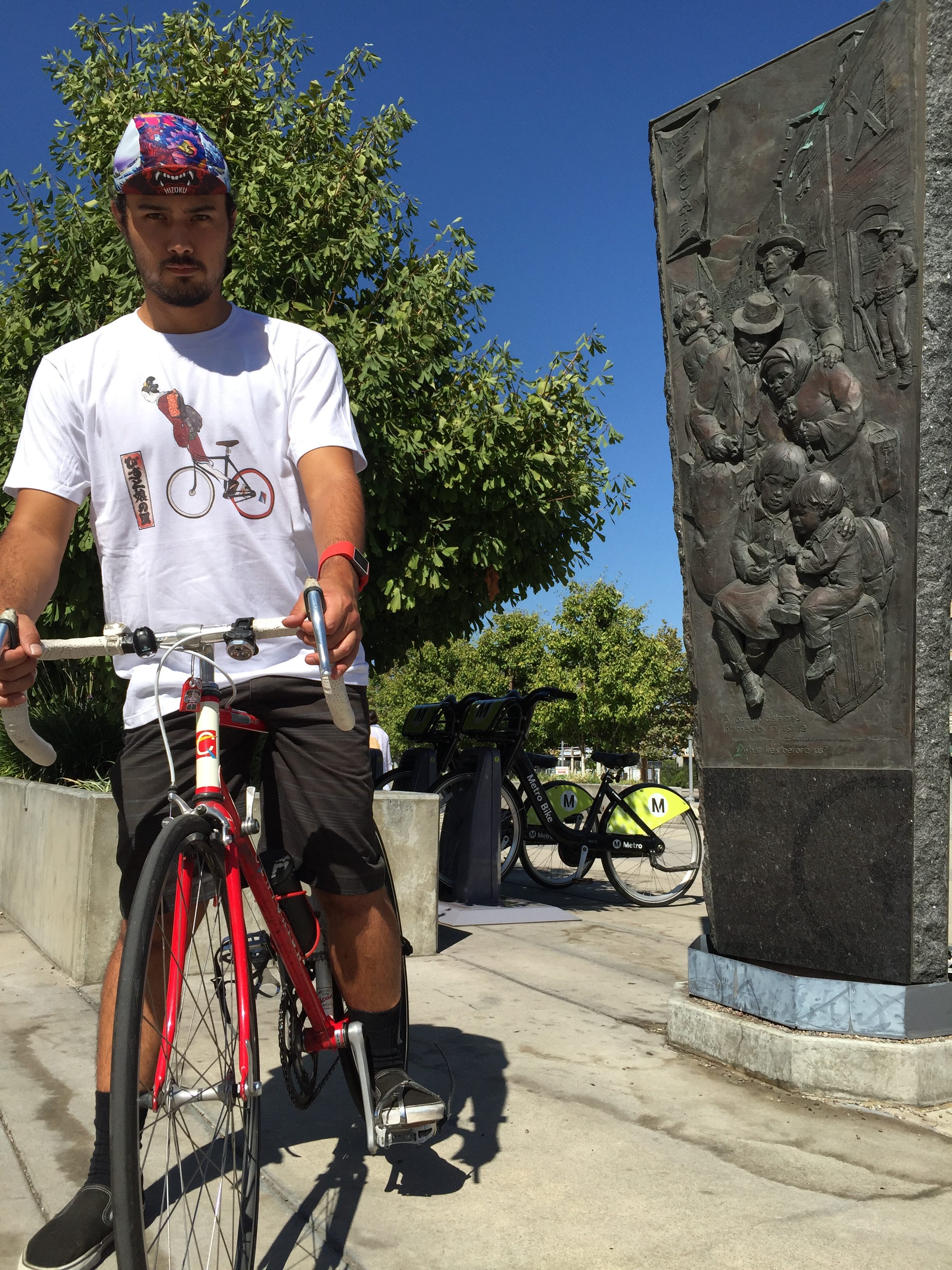 Chris Weir is a haifu (half Japanese half white) community organizer that is part of KmB Pro-people youth (a progressive grassroots organization in Historical Filipinotown in Los Angeles) and Nikkei Progressives (a progressive organization based in Little Tokyo). Chris is an avid cyclist and his next project is organizing bike rides in Japantowns in Southern California with the hope to share local Nikkei histories, link communities together through biking, support local businesses and community programs, and share a vision for equitable and sustainable development and transportation. Professionally Chris works at APAIT (a local non-profit HIV/AIDS service organization that works to positively impact medical underserved communities through culturally competent and linguistically relevant programs) as an Outreach and Testing specialist. On his free time Chris likes to run, play with his Australian cattle dog named Kora, and try new things.