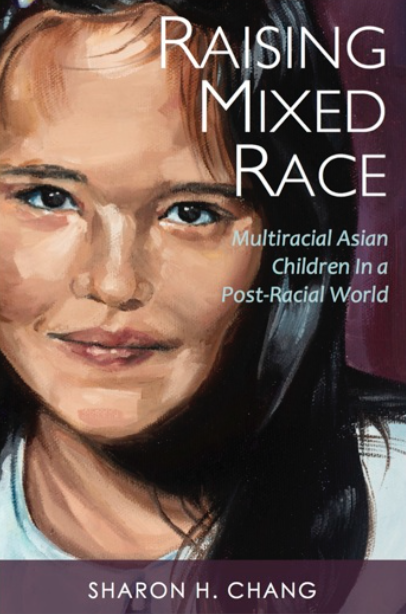 Sharon H. Chang's inaugural book, Raising Mixed Race: Multiracial Asian Children in a Post Racial World, lays out a blue print that outlines the history of white supremacy and how it has corrupted the way people treat each other, specifically Mixed Race/ Multiracial and Multiracial Asian individuals. She develops an important foundation that provides a glimmer of hope for moving forward toward improving our future world, despite the powerful suppressive system before us.
The title might make you think it is a parenting book, and it is (or could be), but it so much more! The language/verbiage used in the book makes this potentially academic/research strong book accessible for those who might have the most questions…parents. Though this book has a focus on multiracial Asian children, it is not just a book for parents of multiracial Asian children. It is a book for all children of color…and even for parents of white children! This book is for anyone who comes in contact with children in any way. This means if you are a teacher/educator, a child care worker, do research with children or on race and intersectionaility…or if you are a parent, sibling, aunt, uncle, grandparent, or once was a child. This book is for everyone!
The book is based on Chang's interviews with 68 parents of 75 young children living in Washington State. She does not go into detail about her recruitment and method, however she does discuss this in my recent interview with her (see Part 1 of 2 below). She intertwines her findings with current and historical events, existing scholarly research and reports, her expertise in tracking dialogue across social media, her own multiracial Asian experience and more.
The focus is on children from 0 to 5 years old. This is an age that has been neglected in most parenting books and research with a multiracial focus. This is also an age during which many parents think that their children do not recognize/see race; however Chang shows us that they absolutely do. Young children are learning from the subtle and often unspoken systematic racism that is infused throughout every aspect of our society.
Chang makes it clear that the understanding of race begins in the home. In a world that is fearful to discuss how white supremacy has been engrained into society and families generation after generation…it is time families start having these difficult conversations. Chang warns that race is not easy to discuss, but essential and does not have to be done alone. It can be done through community. Her last chapter provides specific examples of how to address race in the community, school, and home.
This is the first book that I have seen, that looks at racial identity development, and puts systematic racism and white supremacy where it belongs…. at the beginning and linked over and over again to the end. To understand and address race issues with our children, we must begin with its origin story. When attempting to comprehend the lens in which race issues are created, we must understand the frame in which that lens is held together – white supremacy. Chang tells it like it is. She lifts the curtain on age-old white ideas of race, breaks down history, language and concepts that have created divisions between people who look different or do not follow the prescribed norms. For example, she breaks down how the trending term microagression was created from a white lens and points out there is nothing small or mirco about them! She deconstructs terms used in medical spaces, such as "Mongolian Spots" that have racist origins; and many individuals have just come to believe that is what they are called (See Part 2 of 2 below for more on this). Additionally, she provides a fantastic response to the common question/idea "But aren't we all mixed?" in one of the most eloquently written explanations I have seen. Watch Part 2 of 2 below to hear about how she responds to the question and her new elevator response to this question!
The book is coming out just in time for the holidays, and will make a great gift. It should be on everyone's 2016 reading list! You can order the book on the publisher site  or on Amazon.
Be sure to join Sharon on December 11th for her Facebook launch party. She will be partying all day and giving away some great prizes. Don't miss it!
You can find the Multiracial Asian Families community and blog page on Facebook, the book page on Facebook. You can fin her on Twitter @mutliasianfams, Pinterest, or on her blog MultiAsian Families.
Watch my recent interview with Sharon!
Part 1 – She shares her mixed roots story, how the book came to be and more!
Part 2 -We discuss content from the book including: "Mongolian spots", miss-education and the need for reeducation around racist terms, how to respond to -"Everybody is Mixed", Culture vs. Race, Anti-bias curricula, learning environments and more.
---

Chandra Crudup, PhD, MSW is a board member and co-founder of Mixed Roots Stories. She is the Vice President of MAVIN and the Production Manager for One Drop of Love. Chandra is full time Lecturer and Faculty Associate Coordinator in the School of Social Work at Arizona State University. She has over six years of practice experience in K-12 schools. Her research interests are centered on multiracial identity and interracial relationships. Her research utilizes video technology as a qualitative data gathering tool. She is also interested in using the arts as a medium to build positive self-esteem in youth.