"Babygirl" chronicles a (bi-racial) TV/pop culture ADDICT'S journey through the Growing Pains of Childhood, the Wonder Years of Adolescence, to the realization that though media might be our 1st Love, sometimes we have to to press the OFF button to find ourselves.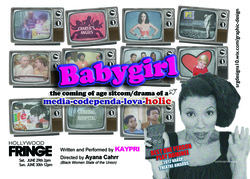 Babygirl has themes that resonate with both pre-teens and teenagers, both male and female. I have workshopped BABYGIRL in the suburbs, the inner city, as well as small towns and learned that it strikes a cord with people across the board regardless or age, sex, or racial and/or socio-economic background. But it especially speaks to YOUTH who lack stori
es that truly reflect them.
Over the years kids have come up to me and asked, "Did that really happen to you?" proving to me that my story reached them. They see me, learn my story, and see that I have survived, and are now empowered with the lesson, that they will too.
Recovering addicts have been touched by this piece as well and I've already started the process of reaching out to them as potential audience members.
This is a universal story that I pla
n to share nationwide and worldwide.
Come join Babygirl on her road to recovery!
Written and performed by KAYPRI
Directed by AYANA CAHRR (Black Women State of the Union)
WEBSITE: www.kaypri.com
CONTACT ARTIST AT: bookbabygirl@gmail.com (for future performance discounts put FRINGE 2013 in SUBJECT LINE)
Learn More at www.kaypri.com